3 Powerful Things God Says About You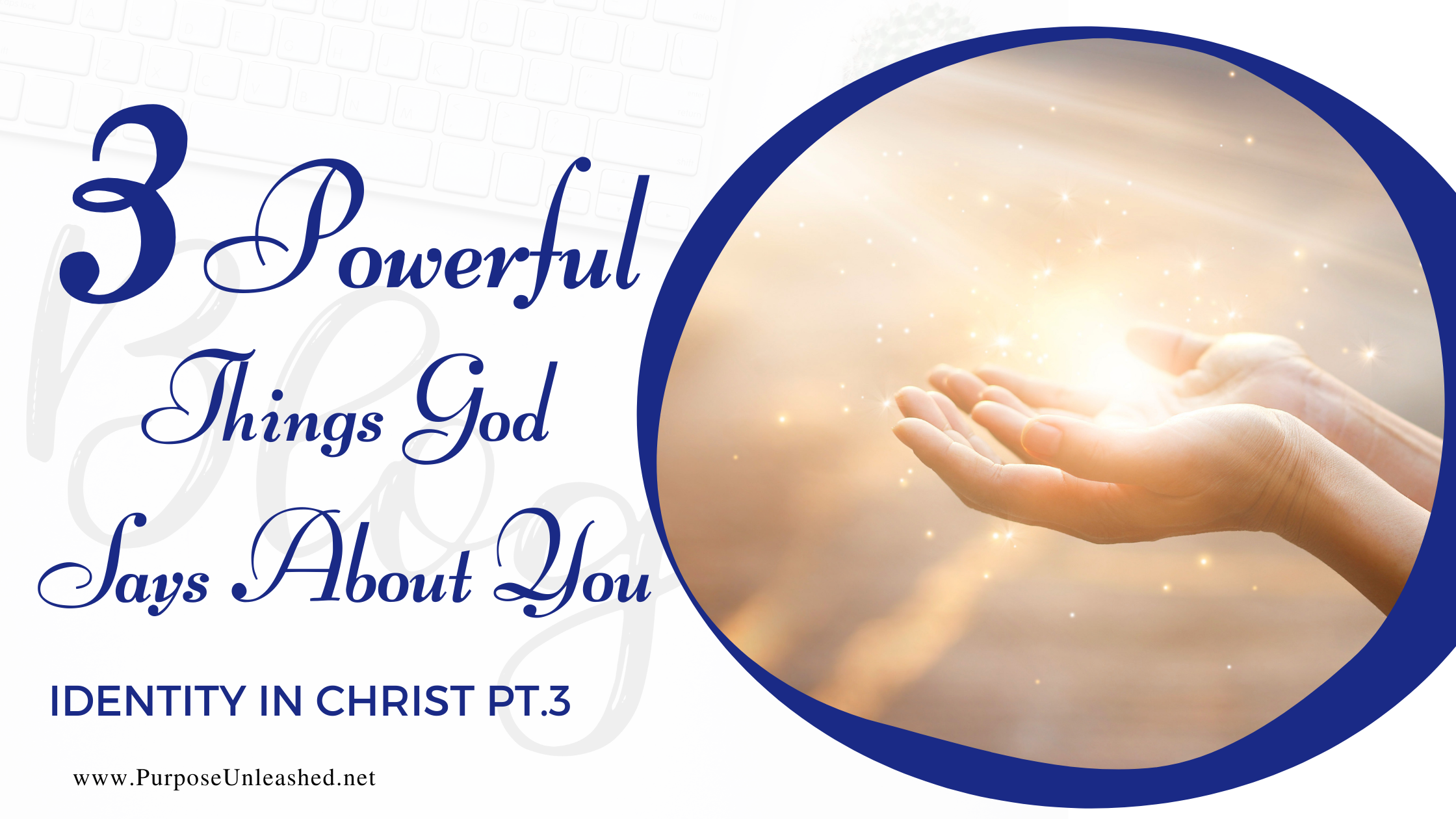 Let's talk about God's miracle in you – 3 powerful things God says about who you are, so you can better connect with your identity in Christ Jesus, and live your full potential.
A story is told by Brent Williams about Jimmy, an orphan from a foster home, who is fishing by himself on the end of a pier one day. Full of curiosity like most ten-year-olds, he leans over the edge to look at an insect crawling next to him and falls into the water.
The rescuer firmly but gently pats him on the back, burping out the water he has swallowed, carries him to the showers to wash away the saltwater, and dried him off. Then he drives him to the mall, buys him new clothes, and takes him home with him, introducing him to his father and family.
They feed him a hot meal and invite him to live with them. This wonderful loving provider mentors the newly adopted boy in the family's beliefs and makes him one of his heirs. He's delighted as the boy participates in the activities of his new family. Jimmy finally has a family, a home, a father, and brothers who love him. He is secure in his new father's love and inherits everything that the father gave his sons.
The story speaks to what it means to be rescued, accepted, adopted, loved, and made an heir to an inheritance – not because the little boy worked for it or earned it; not because he qualified for it, but rather because all of it was a gift bestowed upon him because the giver wanted to give it. All the boy had to do was trust in his rescuer and accept what he offered.
The moment you and I trusted in Christ, we are rescued from drowning our sins, we are given a new chance at living life to the fullest; we are clothed in the righteousness of Christ and are made brand new; we are invited to join the family of God and participate in the family activities; we are fed and taken care of – our needs are met; we are made heirs to a great and valuable inheritance that God wants to give all his children; and we can reconnect with our real identity as sons and heirs – an identity which can only be found in Christ.
All of this is God's gift to you and me; we didn't have to work to earn it; we didn't have to pass any test to qualify for it; all we had to do was believe and trust in Christ our rescuer, and He took care of everything else. Isn't that wonderful?
The little boy was no longer an orphan – he was no longer alone because his rescuer adopted him into his family. The Father changed his identity from orphan to son.
In the same way, when we trust in Christ, God changes our identity from orphan to son/daughter. We went from having no inheritance to being a joint heir with Jesus Christ. 
Paul wrote about this in Romans 8:14-17 when he said,
"Those who are led by God's Spirit are God's children. For the Spirit that God has given you does not make you slaves and cause you to be afraid; instead, the Spirit makes you God's children, and by the Spirit's power we cry out to God, "Father! my Father!" God's Spirit joins himself to our spirits to declare that we are God's children. Since we are his children, we will possess the blessings he keeps for his people, and we will also possess with Christ what God has kept for him; for if we share Christ's suffering, we will also share his glory."

Apostle Paul
Here are 3 simple confessions in connection with your new God-given identity that you should know and constantly speak over your life. Romans 10:17 say, "So faith comes from what is heard, and what is heard comes through the message about Christ." Hearing God's Word spoken over your life is the best faith-building device there is…and when you speak it, an even deeper connection is made in your spirit.
IDENTITY CONFESSION #1:
I AM A NEW CREATION IN CHRIST JESUS
Therefore, if anyone is in Christ, he is a new creation; old things have passed away, and look, new things have come [2 Cor 5:17]
We have two great truths here: one is your position as a believer – you are "in Christ;" and the other truth speaks to your character and identity — you are a "new creation.
The Apostle Paul says that because you have been joined to Christ, old things have passed away and new things have come. The word 'new' in this context is derived from the Greek word "kainos" which means three distinct things: (i) new in quality; (ii) fresh in development or opportunity; (iii) "not found exactly like this before – unique."
This means that as a new creation in Christ Jesus there is a new quality of life, character, and nature flowing through you; your life is open to fresh opportunity and development – you can literally become, do, and have all that God says belongs to you; and you are unique and totally different than you were before – there is nothing about the new you that can be compared to the old you – you are completely brand-new. Knowing this you can confidently declare, "I am a new creation in Christ Jesus.
IDENTITY CONFESSION #2:
I AM DELIVERED
The Father has delivered and drawn us to Himself out of the control and the dominion of darkness and has transferred us into the kingdom of the Son of His love, [Col 1:13]
There is a modern parable used as an insightful video illustration by bluefishtv.com which examines the life of a man searching through the false promises of other religions and finding his salvation in Christ.
The parable goes like this…
A man fell into a hole. He fell into a hole and he couldn't get out.
A traveler passed by, he told the man to meditate, to purify his mind and when he reached nirvana, all the suffering would cease. The man did as he was told but it rained in the hole.
A second man came. He explained that the hole didn't exist, and neither in fact did the man. It was all an illusion. But the man who did not exist was still stuck in the hole that was not there.
A third visitor arrived. He instructed the man to perform good deeds to improve his karma and though he might still die in the hole, he might be reincarnated as something magnificent.
A fourth traveler looked down from above. He taught the man to pray five times a day facing east and to follow five important tenets. If he was faithful, one day perhaps, the divine would set him free. The man prayed as best he could but he was losing strength, and in the hole, he remained.
Finally, a fifth man appeared. But there was something different about him. He called down to the man in the hole and asked him if he wanted to be free. This man lowered himself into the pit; he took hold of the man and climbed with him out of the hole and into the light. The man who could not get himself out of the hole was saved. He was now free.
How do we know you are delivered?
Because Jesus saw that we were stuck in the hole of our sins and try as we might, we could not get out and free ourselves. So, because of love, He climbed down into that hole of darkness where we were, lifted us on his shoulders, and climbed back out into the kingdom of light. Since that day, even despite our shortcomings and mistakes, we can still boldly declare, "I am delivered".  
IDENTITY CONFESSION # 3: 
I AM GOD'S MASTERPIECE
For we are God's [own] handiwork (His workmanship), recreated in Christ Jesus, [born anew] that we may do those good works which God predestined (planned beforehand) for us [taking paths which He prepared ahead of time], that we should walk in them [living the good life which He prearranged and made ready for us to live]. [Eph 2:10]
Pauls says a whole lot, but let's pay attention to four specific things:
firstly, you are God's masterpiece – The dictionary defines a "masterpiece" as "a person's greatest work of art," or a "consummate example of skill or excellence." This implies that when God made you, he made you as one of his greatest works of art and used the excellence of his skills to craft and shape your life and destiny; you are God's masterpiece! The only question left to be answered is "Do you accept God personal assessment of you?"
secondly, you are born anew in Christ – David writes in Psalms 103:12 that "As far as the east is from the west, so far has He removed our transgressions from us." Paul restated God's position about your sins which David wrote about earlier when he pens that God says, "For I will be merciful to their wrongdoing, and I will never again remember their sins".
thirdly, you are created to do good works – works which God as pre-planned for you to accomplish even before your birth; this simply means that you are perfect for your Godly assignment within the earth. It means that you are significant, useful, and that your life is filled with the purpose of God. All you need to do is embrace your assignment and ask God to live it out through you on a daily basis
fourthly, God has prepared an ordained the path for you to walk in – a path which leads to a good and successful life. Because you are God's masterpiece, He has left nothing about you to chance. He has designed a clear path for you to follow during your life – a path which will ultimately lead you to the fulfilment of your destiny, the completion of your purpose, and the satisfaction of knowing that you have allowed God to do with your life what you were born to do.

David says in Psalms 119:105 "Your word is a lamp to guide me and a light for my path." He embraced the fact that the voice of God in his life brought wisdom to illuminate his path and to guide his steps to ensure that he was always on the right path, headed in the right direction in his life. God has ordained the same path for your life as well.